TALLY | Supreme Champion Ricochez Auryn Talyessin CD RAE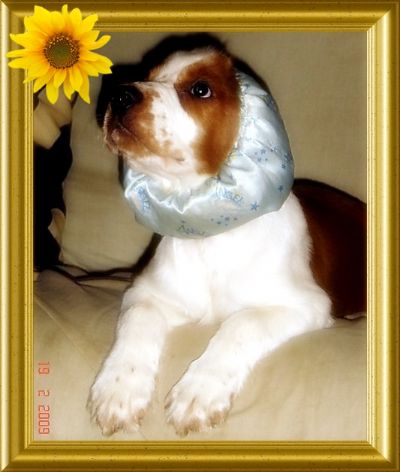 CLICK HIS PHOTO &/OR SCROLL DOWN TO MEET TALLY
---
SUPREME CHAMPION RICOCHEZ AURYN TALYESSIN CCD CD RN RA RE RAE
'AURYN':

(pronounced 'EYE-rin

'),

from the Welsh 'Aur' meaning Gold, or the Golden One.
'TALYESSIN':

(pronounced 'Tal-YESH-in

'),

Meaning 'Shining Brow' derived from the Welsh 'tal' (brow) & 'iesin' or 'essin' (shining). In Welsh mythology, Talyessin (Taliesin), was also a wizard (apprenticed to Merlin the Welsh Wizard), & a bard (poet) who lived

in

the 6th

Century &

acquired the gift of prophecy. His grave is visited by hundreds of his followers every year.
---
---
TALLY HAS BEEN TESTED FOR THE FOLLOWING
Tally has been DNA profiled ~ enabling genetic identification.

Official ANKC height = 45.5 cm (18 inches)

Hips ~ R:9/L:12

(

tested at 4 yrs old

)

Elbows ~ 0/0

(

tested at 4 yrs old

)

Multifocal Retinal Dysplasia (MRD) =

UNAFFECTED

Goniodysgenesis

(G) = UNAFFECTED

Generalised Progressive Retinal Atrophy (GPRA) =

UNAFFECTED

Retinal Pigment Epithelial Dystrophy (RPED) =

UNAFFECTED
(Instrumentation: 'Mydriatic', 'Direct' & 'Indirect

Ophthalmoscope', 'Slit Lamp Biomicroscopy

', 'Gonioscopy')




Eye Parts Examined ~ Adnexa, Cornea, Iris, Lens, Vitreous, Fundus = ALL UNAFFECTED

Cone-Rod Dystrophy (Cord 1 PRA/crd 4)

[DNA tested] = CLEAR
---
☆ CAREER HIGHLIGHTS ☆
(as of 9 August 2017)
SUPREME CHAMPION TITLE
GRAND CHAMPION TITLE
TITLED IN 3x DISCIPLINES
3 x BEST EXHIBIT IN SHOW (BIS 1st)
2 X RUNNER UP BEST EXHIBIT IN SHOW (BIS 2nd)
1 x RUNNER UP BEST EXHIBIT IN SPECIALITY SHOW (BISS 2nd)
ROYAL SHOW BEST EXHIBIT IN GROUP 2013 (BIG 1st)
12 x BEST EXHIBIT IN GROUP (BIG 1st)
ROYAL RUNNER UP BEST IN GROUP 2012 (BIG 2nd)
29 x RUNNER UP BEST EXHIBIT IN GROUP (BIG 2nd)
OBEDIENCE GUNDOG OF THE YEAR 2012 & 2013
3 x CLASS IN ROYAL SHOW
32 x CLASS IN SHOW
3 x ROYAL CLASS IN GROUP
4 x CLASS IN SPECIALITY SHOW
5 x BEST OF BREED ROYAL SHOW
5 x BEST OF BREED SPECIALITY SHOW
96 x CLASS IN GROUP
#2 GUNDOG NT DOL POINTSCORE 2010, 2012 & 2013
#3 SHOWDOG ALL BREEDS NT DOL POINTSCORE 2013
RALLY ADVANCED EXCELLENT OBEDIENCE TITLE (RAE)
RALLY EXCELLENT OBEDIENCE TITLE (RE)
RALLY ADVANCED OBEDIENCE TITLE (RA)
RALLY NOVICE OBEDIENCE TITLE (RN)
COMMUNITY DOG OBEDIENCE TITLE (CD)
COMMUNITY COMPANION DOG OBEDIENCE TITLE (CCD)
6 x SPECIALITY SHOW PROPERTY CLASS
---
Supreme Champion Ricochez Auryn Taliesin CD RA RAE: 01/12/2008 ~ 05/11/2022

Beautiful Tally has left us. It was his time to grow his glorious Welsh Dragon Wings. Tally was our first Welshie & how lucky were we to have such a beautiful, devoted friend as him in our lives? It is now so quiet & very sad here without him. His beloved mate Muriel spends her time searching for him. It is heartbreaking to watch.

We are blessed to have his two children here - Windy & Pagan. We smile as we watch his children. He lives on in both them & our hearts. Until we are reunited, safe travels across the Rainbow Bridge our special old friend.
---
Tally! The little Welsh Wizard that cast his Welshie spell on all he meets.

We watched a beautiful Welshie win Best in Group at Crufts & we knew we just had to have one for ourselves. We had instantly fallen in love with the stunning little red & white Spaniels from Wales! However, we wanted one that was related to this Crufts winner, or, at the very least, it had to resemble the one we had fallen in love with. To cut a long story short, we discovered that the lovely 'Oscar' (Supreme Champion Shandwick Raffles (imp UK) had arrived in Australia & was now in Brisbane, Queensland. We contacted Bev & Bruce Cornish of Ricochez Kennels & 'Oscar' had been mated to 'Belle' (Champion Goldmaid Dutch Treat), & after the longest 4 months of waiting our first little Welsh Dragon Mittens landed safely at the airport & away we went ~ headlong into the crazy, wriggling, wonderful, sometimes frustrating but very waggy world of the merry Welsh Springer Spaniel!
Tally is the spitting image of his father Oscar, & those who were lucky enough to have met his sire see the resemblance immediately. Dazzled by his glorious red & white jacket & cheeky personality he had soon taken over our hearts. He settled in a treat & we were thrilled from the start with our Welsh beastie. With his perfect 'leaf-shaped' ears, very correct proportions, absolutely breathtaking head & front, coupled with his classic & correct Welshie 'movement' it is no wonder that Tally is a very consistent winner in the show ring. A straighter moving dog you will NOT find anywhere & his 'topline' never ever falters on the move. Judges comment on this & admire his 'true' gait constantly. It really does have to be seen to be believed! You could literally put a glass of water on his back as he trots around & not one drop would spill!
Holding a current ANKC Height card ~ Tally stands at just under 48cms/19 ins at the withers, which is pretty much spot on according to the ANKC Standard.
Being so correct & with such impeccable breeding behind him (plus a good dash of unique Welshie humor, attitude & pure class), it was no surprise that Tally ~ at a very young age ~ soon put his breed well on truly on the Top End doggy map. It can be hard enough to win anything at all, let alone with a rare breed, & Tally always turns heads whenever he steps out ~ whether it be into the show ring, the Trial ring, or on any public occasion. He has converted quite a few now & the Welsh Springer Spaniel breed has gained quite a few more new fans, lovers & enthusiasts, all thanks to our beautiful 'Talyessin Llewellyn~Jones'!
He is definitely the top dog here amongst the furry members of our family, strutting around & making sure no one ignores him! His funny little ways, his indignant expression should anyone dare pat or fuss another dog before HIM & the fact that he HATES his routine messed up, constantly reminds us that we are sharing our lives with a little Welsh STAR!
Starting him in Obedience, Rally Obedience & Tracking Trials has been like a breath of fresh air & Tally has to be the most enthusiastic little Welshie in the world as he just LOVES training ~ he just wants to please. In spite of his awful human handler he is consistently being scored highly in the Trial rings, already obtaining 2 Obedience titles & 3 Rally Obedience titles & he is well on his way to his next. He thrilled us (again) in his first year of Trial competition, as his fabulous results & placings were rewarded with a prestigious Obedience Gundog of the Year award ~ he backed this up in 2013 by winning it again! Tally has also received his first Pass in Tracking & we are hoping he will be the proud holder of a Tracking Title as well.
Mind you, it hasn't always been plain sailing s it did take him quite a while to get over his WSS 'reserved' stage in the ring! The WSS can be standoffish with strangers. It also took him 18 months to start eating properly (WSS can also be prone to this annoying trait but most of them grow out of it by 18 months), & he is a real piggy for his food now & likes anything he can get his velvety chops around ~ in fact, we now have to watch he doesn't get too fat!
---
All content copyright
© 2015
MBIS MRUIS Supreme Champ Ricochez Auryn Talyessin CCD. CD. RN. RA. RE. RAE.
"Tally"
View More Details
Contact Details
Nicola & Peter Jones
Berry Springs, NT, Australia
Email :
[email protected]