MURIEL | Grand Champion Ricochez Dyfri Addiena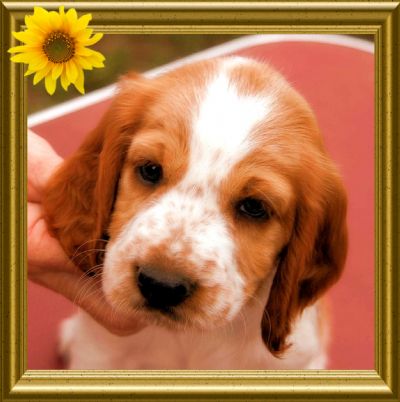 CLICK HER PHOTO &/OR SCROLL DOWN TO MEET MURIEL
---
GRAND CHAMPION RICOCHEZ DYFRI ADDIENA

'DYFRI':

(pronounced 'DUH-vree'

), from the Welsh 'of the water' or 'from the water' (a fitting name as she was born in Brisbane, Queensland, Australia at the time of the terrible floods of December 2010), & it is also the name of an early Celtic Saint.
'ADDIENA

':

(pronounced 'Ah-THEE-en-ah'),

is a Welsh female c

hristian

name

meaning

'beautiful',

also

very

fitting

as

we

think she is!
---
---
MURIEL HAS
BEEN TESTED FOR THE FOLLOWING
Muriel has been DNA profiled ~ enabling genetic identification.
Hips ~ R:3/L:0 Total = 3 (tested at 2 yrs old)

(Aust Grade 1 & International Grade A2)

Elbows ~ 0/0 Total = 0 (tested at 2 yrs old)

Goniodysgenesis (G)

= UNAFFECTED

Multifocal Retinal Dysplasia (MRD) =

UNAFFECTED

Generalised Progressive Retinal Atrophy (GPRA) =

UNAFFECTED

Retinal Pigment Epithelial Dystrophy (RPED) = UNFFECTED


(Instrumentation: 'Mydriatic', 'Direct' & 'Ind

irect Ophthalmoscope', 'Slit Lamp Biomicroscopy

', 'Gonioscopy').




(Eye Parts Examined ~ Adnexa, Cornea, Iris, Lens, Vitreous, Fundus = ALL UNAFFECTED)

Cone-Rod Dystrophy (Cord 1 PRA?crd 4

[DNA tested] =

CLEAR
---
☆
CAREER HIGHLIGHTS
☆
(as of
2
September 2015)
GRAND CHAMPION TITLE (May 2015)
5 x BEST IN GROUP (Group 1st)
5 x RUNNER-UP BEST EXHIBIT IN GROUP (Group 2nd)
GRAND CHAMPION TITLE (MAY 2015)
5 X BEST CLASS IN GROUP (GROUP 1st)
5 X RUNNER-UP BEST EXHIBIT IN GROUP (GROUP 2nd)
66 x CLASS IN GROUP
66 x CLASS IN GROUP
7 x CLASS IN SHOW
ROYAL
BEST OF BREED
ROYAL SHOW MULTI BITCH CHALLENGE
SPECIALTY MULTI BITCH CHALLENGE
MULTI BEST OF BREED
MULTI BITCH CHALLENGE
MULTI RUNNER UP TO BEST OF BREED
MULTI-SPECIALTY SHOW PROPERTY CLASS WINNER
---
Precious spotty Muriel Jones ~ the little Welshie girl with the most beautiful soul!

Another Welshie bred in the purple by Bev & Bruce Cornish at Ricochez Kennels. Muriel is from the first litter whelped in Australia by UK import 'Charles' (Champion Redfrith Charlie Brown (Imp UK) & out of the classically bred New Zealand import 'Evie' (Champion Brynmor Evenstar (Imp NZL).

It has to be said that Muriel, is without a doubt, one of the kindest & gentlest dogs we have had the pleasure to own. Mind you, she is as silly as a wheel sometimes. Originally called Velvet, because of her beautiful velvet coat - however, her name soon changed to Muroel as she is always in trouble! So the name Muriel stuck as her resemblance to the lead character in the Australian Movie 'Muriel's Wedding' is uncanny (Muriel is a girl who does any number of undesirable things, causing her on-screen sister to constantly proclaim 'You're terrible Muriel')!
The name really does suit our little girl so very well ~ as she is terrible! Always into mischief! Nothing really nasty, just constant silly little things ~ for instance, she recently got herself stuck in the fork of a tree ~ AGAIN ~ hunting birds of course! She was totally & firmly wedged & dangling in the air yodling & calling for help! Of course, as usual, she had to be rescued which resulted in the obligatory half an hour of frenzied happy wags & Welshie wiggles as she told us how thankful she was BUT, 'did we see the bird? Did we? Did we?' Ahhh precious Muriel!
Her level of naughtiness increased with the arrival of Bubbles our ESS bitch. Muriel & Bubbles are inseparable. Talk about partners in crime! When Bubbles arrived Muriel, being such a wally, decided to 'adopt' Bubbles as HER puppy & she cleaned her, fretted over her, looked out for her, shared everything with her, chastised her, instructed her & hated to be apart or out of sight of her new 'baby'! She even tried to nurse Bubbles! Silly little Muriel ~ daft as a brush!
She still regards Bubbles as HER daughter, although Bubbles is now a lot bigger than her adopted mum! The pair reminds us of a tiny sparrow trying to look after a great big fat Cuckoo chick! Never to be under estimated, however, they are a force to be reckoned with in our little pack & the boys back off quick smart when these 2 girls decide to pull rank on them!
Muriel is often disregarded at the competition level. After a candid glance in her direction folk can be forgiven for thinking she is just another 'little red & white' dog. Well yes, we can see why you would think that but ............ then ........... she MOVES! WOW! You should see her cover the ground! It is really hard to get a bad photo of our Muriel moving & it simply takes your breath away. She also smiles as she parades around the ring! Quite literally! Unlike a lot of WSS, she was never as 'reserved' as some, although she isn't given to leaping all over strangers as any self-respecting Welshie will always stand back & gauge a newcomer ~ they will only approach if the human (or object) is deemed worthy & safe. Muriel can always be relied on to greet everyone with a wagging, lashing tail & her famous beautiful smile! She simply LOVES attention & oozes attitude, presence & love of life!
Her 'jacket' is the most glorious shade of 'red' & set off by her 'pearly white' coat it is a joy to behold ~ especially in the sunlight. Little Muriel has attracted quite a few fans now (especially with the Junior Handlers), & is a favorite of many. She is such a great ambassador for her breed. This amusing cheerful sound little Welshie is a constant source of delight to us. Some WSS will yodel as well as bark & Muriel is a yodeling master! She can even yodel her name & clearly say 'I love you'. Also worthy of a mention is the Olympic level gymnastics & her *star* jumps are legendary & her

athleticism also has to be seen to be appreciated! A 6-foot fence presents no

obstacle to Muriel ~ it is regarded as just another thing to jump over & enjoy, because, after all, life is supposed to be lived flat out in top gear & at breathtaking speeds ................... isn't it?!
Very birdy, she never ever stops hunting. We are sure she would excel in Field Trials & other specialist Spaniel work. Unfortunately, our current location means we are unable to see if our assumption is correct. We have started Tracking with her now & she easily achieved a 'Pass' in her first Tracking Trial ~ something she really enjoys & excels at! Muriel IS just born to Track!
Muriel is still a long way from reaching her full potential & it didn't help that she was a typical Welshie & went on hunger strike for the first 2 years of her life. Well, she is finally over that & she has filled out & shaped up nicely. It is pleasing to note that judges ~ both Australian & International ~ have seen past her obvious immaturity & have recognized her potential awarding her multi Best In Group (Group 1st), multi Class in Show & Group awards, multi Best of Breed certificates & multi Runner Up In Group awards (Group 2nd) & she easily gained her Grand Champion show Title in mid-2015.
We feel the wait is worth it ~ besides who cares anyway ~ since Muriel arrived our lives have been enriched, are never dull & just quietly, the days are now very special & a whole lot of fun!
---
All content copyright
© 2015
MBIG MRUIG Grand Champ Ricochez Dyfri Addiena
"Muriel"
View More Details
Contact Details
Nicola & Peter Jones
Berry Springs, NT, Australia
Email :
[email protected]