PAGAN | Champion Rheged Ceridwyn Ferch Addiena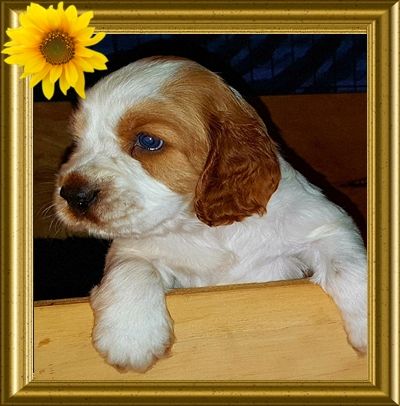 CLICK HER PHOTO &/OR SCROLL DOWN TO MEET PAGAN
---
CHAMPION RHEGED CERIDWYN FERCH ADDIENA
'CERIDWYN':

(pronounced 'ker-EED-win

'), Medieval Welsh poetry refers to her as possessing the cauldron of poetic inspiration ('Awen'), & 'The Tale of Taliesin' recounts her swallowing her servant 'Gwion Bach' who is then reborn through her as the poet 'Taliesin' ('Talyessin'). Ceridwyn is regarded by modern Pagans as the Celtic goddess of rebirth, transformation & inspiration. Our Talyessin is Pagan's sire.

'FERCH': simply means 'daughter of'.
'ADDIENA':

(pronounced 'ah-THEE-en-ah

'),

is a

Welsh c

hristian

name

meaning

'beautiful'

& of course the registered name of her dam, our very own & quite beautiful 'Muriel'.
---
---
PAGAN HAS BEEN TESTED FOR THE FOLLOWING
Goniodysgenesis (G) - UNAFFECTED

Hereditary Cataract (HC) - UNAFFECTED

Persistant Pupillary Membranes (PPM) - UNAFFECTED

Congenital Hereditary Cataract (CHC) - UNAFFECTED

Persistant Hyperplastic Primary Vitreous (PHPV) - UNAFFECTED

Cone-rod Dystrophy (cord1-PRA/crd4) - CLEAR BY PARENTAGE
---
☆ CAREER HIGHLIGHTS ☆
(as of 31 October 2019)

AUSTRALIAN CHAMPION TITLE ~ 2019
1x CLASS IN SPECIALTY SHOW WINNER
1x CLASS IN SHOW WINNER
20 x CLASS IN GROUP WINNER
MULTI BITCH CHALLENGE WINNER
MULTI R/UP BEST OF BREED WINNER
---
Never was a dog more aptly named! Talk about little Miss Bossy Boots. Pagan is always just a day or two ahead of her brother Windy in everything she does & has just blossomed & thrived from the get-go. She has the most beautiful, pretty markings & she is all girl ~ no mistaking her for a boy! One look at her lovely sweet feminine face will tell all.

She is very aptly named as she is a little Welsh witch, a sorceress indeed who has bewitched us into believing she is not to blame for anything chewed or ripped up at all! Loves her tucker! Always the quickest to the food bowl & so far we haven't found anything she doesn't liket to eat! We plan to run her on & see how she develops & we like what we see so far.
---
All content copyright
© 2015
Champ Rheged Ceridwyn Ferch Addiena
"Pagan"
View More Details
Contact Details
Nicola & Peter Jones
Berry Springs, NT, Australia
Email :
[email protected]