MAX | Neuter Champion Tarnell Rider Oth Storm CCD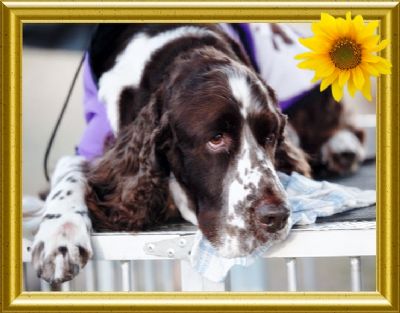 SCROLL DOWN TO MEET MAX
---
---
☆ CAREER HIGHLIGHTS ☆
(as of 4 June 2015)
COMMUNITY COMPANION DOG OBEDIENCE TITLE (CCD)
NEUTER CHAMPION TITLE
PGC SHOW GUNDOG OF THE YEAR 2009
MULTI-CLASS IN ROYAL SHOWS
MULTI-CLASS IN SPECIALTY SHOWS
MULTI-CLASS IN GROUP ROYAL SHOWS
MULTI-CLASS IN SHOW AWARDS
MULTI-CLASS IN GROUP


2x NATIONAL CHAMPS QUALIFICATIONS JUNIOR HANDLERS DOG


MULTI-PROPERTY CLASS AWARDS SPECIALITY SHOW
---
Max was quite obsessive about toys & he would think nothing of digging the base out of the lounge suite to retrieve 'his' toy! However ~ once he'd removed the 'heart' (the squeak), out of a toy he quickly lost interest. He was also the master hunter of all things feathered! I remember coming home one day to find all our chickens neatly piled up on the doorstep! Being a good little Gundog, not only had Max managed (in his mind) to provide food fit for our table, but he had also neatly arranged & stacked his conquests ~ all ready for us to cook (for him?)! Needless to say, we kept him on a tight rein after that little episode, especially when replacement fowl were purchased!

A delight to show & always in great demand as a Junior Handler dog ~ Max has a very special place in the hearts of many. He had cheated death oh so many times; but his last battle just could not be won so, in the arms of his best friend Michelle, he was given his 'wings' in June 2015. Darling Max is now running free over the Rainbow Bridge ~ & it was such a joy & privilege to have him in our world.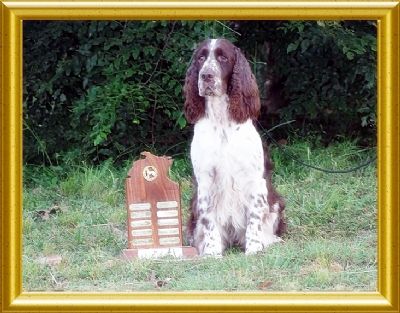 ~ Winner of the PGC Showing Gundog of the Year 2009 ~
---
All content copyright © 2015
Neut Champ Tarnell Rider Oth Storm CCD.
"Max"
View More Details
Contact Details
Nicola & Peter Jones
Berry Springs, NT, Australia
Email :
[email protected]