MEAZLE | Supreme Champion Sunspur Zeuss CD RA ET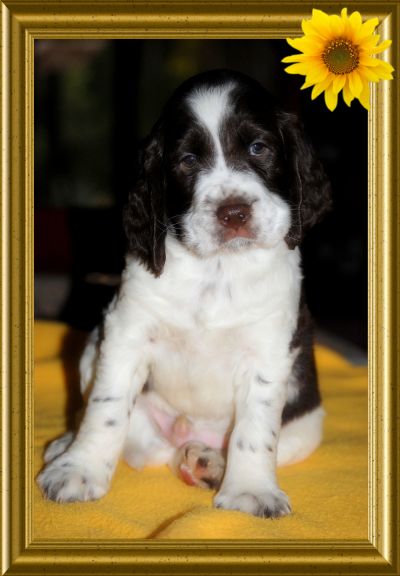 CLICK HIS PHOTO &/OR SCROLL DOWN TO MEET MEAZLE
---
---
~ MEAZLE HAS BEEN TESTED FOR THE FOLLOWING ~
Meazle has been DNA profiled ~ enabling genetic identification.

Official ANKC height = 52 cm (20 15/32 inches)

Fucosidosis (FS) [DNA tested] = CLEAR

Phosphofructokinase (PFK) [DNA tested] = CLEAR

Cone-Rod Dystrophy (Cord 1 PRA/crd 4) [DNA tested] = CLEAR

Goniodysgenesis (G) = UNAFFECTED

Multifocal Retinal Dysplasia (MRD) =

UNAFFECTED

Generalised Progressive Retinal Atrophy (GPRA) =

UNAFFECTED

Retinal Pigment Epithelial Dystrophy (RPED) =

UNAFFECTED




(

​Eye Parts Examined ~ Adnexa, Cornea, Iris, Lens, Vitreous, Fundus = ALL UNAFFECTED)


(Instrumentation: 'Mydriatic', 'Direct' & 'Ind

irect Ophthalmoscope', 'Slit Lamp Biomicroscopy

', 'Gonioscopy').

Hips ~ R:0/L:0 Total = 0

(tested at 6 yrs old) ~

Australian Grade '0' & International Grade 'A1'

Elbows ~ 0/0 Total = 0

(tested at 6 yrs old)
---
☆ CAREER HIGHLIGHTS ☆
(as of 2
October 2017)
AUSTRALIAS FIRST SUPREME CHAMPION TITLE
ALL BREEDS (6 July 2012)
GRAND CHAMPION TITLE (July 2011)
AUSTRALIAN CHAMPION TITLE

AUSTRALIA DAY MEDAL WINNER 2012
# 1 ALL BREEDS NT DOL
POINTSCORE
2011, 2012, 2013, 2014, 2015 & 2016
# 1 GUNDOG NT DOL
POINTSCORE
2010, 2011, 2012, 2013, 2014, 2015 & 2016
35 x BEST EXHIBIT IN SHOW WINNER (BIS 1st)
2 x BEST EXHIBIT IN SPECIALITY SHOW (BISS 1st)
33 x RUNNER UP BEST EXHIBIT IN SHOW WINNER (BIS 2nd)
3 x RUNNER UP BEST EXHIBIT IN SPECIALITY SHOW (BISS 2nd)
# 1 ALL BREEDS NT TOPDOG POINTSCORE 2014 & 2016
#1 GUNDOG NT TOP DOG POINTSCORE 2014 & 2016
# 1 GUNDOG RISING STAR
NT DOL
POINTSCORE
2008
224
x BEST EXHIBIT IN GROUP (Group 1st)
2 x ROYAL SHOW BEST EXHIBIT IN GROUP 2016 & 2012 (Group 1st)
2 x OBEDIENCE DOG OF THE YEAR AWARDS
65
x RUNNER-UP BEST EXHIBIT IN GROUP (Group 2nd)
MULTI-CLASS IN ROYAL SHOW
156 x CLASS IN SHOW
9 x CLASS IN SPECIALITY SHOW
7 x BEST OF BREED ROYAL SHOW
10 x BEST OF BREED SPECIALITY SHOW
298 x CLASS IN GROUP
9 x SHOWDOG &/OR GUNDOG OF THE YEAR CLUB AWARD
BEST SPORTING SPANIEL OR SETTER AWARD ~ SPECIALITY SHOW
# 2 GUNDOG NT DOL
POINTSCORE
2009
# 2 GUNDOG PUPPY OF THE YEAR NT DOL
POINTSCORE
2007


RALLY ADVANCED OBEDIENCE TITLE (RA)


RALLY NOVICE OBEDIENCE TITLE (RN)
COMMUNITY DOG OBEDIENCE TITLE (CD)
COMMUNITY COMPANION DOG OBEDIENCE TITLE (CCD)
ENDURANCE TEST TITLE (ET)
4 x SPECIALTY SHOW PROPERTY CLASS
---
Supreme Champion Sunspur Zuess CD RA ET: 17/12/2006 ~ 30/03/2021

He has gone. Our hearts are broken. Now in the arms of the angels. The once-in-a-lifetime dog - our beautiful Meazy .... the history maker. We were so blessed to have you in our lives, what an honour it has been to know you. What an incredible journey. Thank you. Fly free across the Rainbow Bridge darling boy. Reunited with your old friends again. Until we meet again - farewell our beautiful, faithful, proud and noble friend.
---
What can we say about our mate Meazle ~ the history maker!
Meazy is an exceptional Springer Spaniel! A once once-in-a-lifetime dog. Bred from outstanding stock in Perth, Western Australia by Stephen & Ericka Baker, at just 5 yrs old ~ he was Australia's first 'Supreme Champion' show dog (of all breeds of dogs, not just the first ESS), & quite simply, he has surpassed all our expectations by winning many awards, accolades & trophies & tucked them all firmly under his collar! It doesn't matter what we keep asking of him ~ he gives his all & amazes us time & time again.



From interesting bloodlines ~ a classic blend of European, New Zealand, Australian & USA stock ~ he has inherited his ancestors' beautiful movement, something the ESS is famous for. Really quite special. NOT a flashy, high stepping, energy-wasting movement, however, Meazle moves very correctly 'pushing & driving' forward with the desired energy efficient, ground covering, effortless & breathtaking movement so necessary in a hunting Spaniel. Many judges have commented favorably on his way of going with one going so far as to publicly state "how precious this dog is; his movement is SO correct & true. He is an absolute treasure ........ we

need to put THIS movement back into the breed" & she then went on to award him 'Best In Show

'!
Not only is Meazle's movement stunning, but he also moves absolutely 'true' & as straight as an arrow. We never have to worry how fast or slow we run him for a judge ~ whether it be going 'out & back', or displaying his 'side-gait' ~ as his balance & proportions are so good that he always tracks up regardless of his speed, the terrain or conditions. Even on slippery concrete surfaces, he never falters ~ he just keeps moving 'true'. Oh yes! He will 'pace' as the ESS is inclined to at slower speeds, although not usually whilst on show!

Being such a sound, honest & reliable Springer Spaniel means he cruised home with lots of energy to spare after successfully completing his 20 km ANKC 'Endurance Trial/Test' (ET), with his temperature & pulse pretty much the same as when he started! An 'ET' is held over 20 km & to be completed within 2 hours, it must be run on at least 3 different surfaces ~ the Trial also includes 4 x compulsory Veterinary checks & 2 x 'willingness tests' (one at the start & one at the completion) which are similar to a very basic Obedience test.

Holding a current ANKC Height Card (& officially measured according to ANKC rules), Meazle stands at just under 52cms. Therefore pretty much spot on according to the ANKC ESS Breed Standard; "approx 51 cm/20 inches..."

Not only is he a STAR in the ring, but he is also a dream at home. Easy to live with, a big softy & so full of character! He also talks constantly & sings like you wouldn't believe! Just bring out the Harmonica & hear him hit those top notes! He will actually sit & have a serious conversation with you, although we have to admit he is a bit rusty on current politics sometimes! Meazy just adores water (just as a Spaniel should), & is a natural retriever, but there is nothing that he loves more than to be a show-off at a Conformation show, compete in Gundog Working Tests, Retrieving Ability Tests, Obedience Trials (although he isn't always keen on training), Rally Obedience, Agility & Jumping trials. We are very pleased to announce, however, that he has ceased burping in the ring ~ one trick he used to insist on doing every time a judge inspected his 'bite' (mouth)! He does have a weird doggy sense of humour!
With one 'pass' already at his first Tracking Trial, he is off & on his way to another Title & we are sure he will surely try his heart out as well. We are proud that he has also been awarded 'Obedience Dog of the Year' twice (2 different Clubs) & his name adorns many other Club 'Showdog' & 'Gundog of The Year' awards. In 2012 we were thrilled to attend Government House as he was awarded an 'Australia Day Medal' ~ such a huge honour! Meazy has also received multiple invitations to represent the NT at the National level ~ with his most recent invitation arriving in December 2016.
All content copyright © 2015
MBIS SBIS Supreme Champ Sunspur Zeuss CCD. CD. RN. RA. ET.
"Meazle"
View More Details
Contact Details
Nicola & Peter Jones
Berry Springs, NT, Australia
Email :
[email protected]