RHEGED | About Welsh Springer Spaniels
Sub-links for this page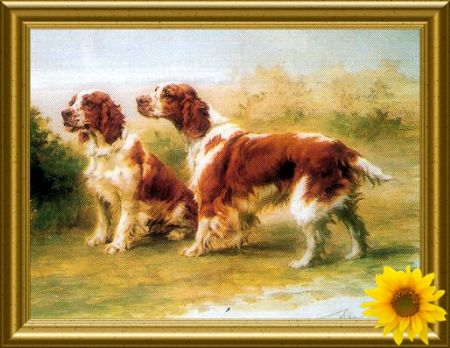 ~ Famous painting by Maud Earl ~ 'Welsh Springers from Longmydd Kennels' (1906) ~
(This painting takes pride of place at the 'The Kennel Club', London)
---
The Welsh Springer Spaniel is probably one of the most ancient breeds of hunting dogs known to man, & is considered to be of very pure origin. The Welshie is distinguished from the other spaniels by its medium size, unique head, distinctive vine leaf-shaped ears, & the splendid rich red & white, lightly feathered coat. They are active, inquisitive, loyal, playful & affectionate with all members of their family, an amiable dog who will work or play with other dogs & accept other household pets. Their ever wagging tail expresses their joy for life. They can be 'reserved' & wary of strangers however, so, therefore, socialisation from a young age is recommended. Once they 'know' you, however, ~ if the Welshie 'approves' of you ~ you will have made a loyal & devoted friend for life! Some can also be very 'fussy' in regards to eating ~ this is particularly frustrating ~ but the 'food issue' seems to resolve it's self at around 18 months of age.
Bred to flush game in thick cover, Welshies are a sturdy dog with a very keen nose which gives them tracking abilities that are second to none! They can be inclined to bark & we do find that they can be noisy at home sometimes, making far more racket & are more 'energetic' & excitable around the house than the English Springers. They can also be noisy whilst hunting, 'giving voice' ~ something they also do when you return home. Their 'voice' can range from a yodel through a bark. Yes ~ they can, & do, actually 'sing' & yodel on your return & go into wiggling, waggy frenzies of sheer Welshie joy when they see you again! They have a love for water ~ the ocean, a dam or muddy puddle, their water bowl ~ you name it ~ if it contains water, they will try to get into it! However, this love does not extend to being bathed! They are generally excellent swimmers & can make fabulous retrievers both on land & water.
EXERCISE:
Although they enjoy home comforts they have a love of the outdoors & require regular daily exercise, preferably twice daily, & appreciate a run off-leash in a safe area. They are happy chasing a Frisbee, ball or stick as well as snuffling, sniffing about & exploring in parks, around rivers & lakes. Without exercise to utilise their natural instincts, Welshies WILL become bored & may create their own, often very destructive means of keeping themselves busy. Care must be taken with the Welsh especially near roads, as like most hunting dogs, they have
ABSOLUTELY NO road sense ~ so exercise on a lead in areas such as this is
ESSENTIAL
.
TRAINING:
Being a very int
elligent breed, they are quick to learn & are great problem solvers. Sometimes known to have selective hearing, especially if there is something far more interesting to take their attention. This needs to be kept in mind when training. Having a soft nature, they respond best to praise & reward, so patience & maybe food rewards will certainly speed up your efforts. Positive training that is stimulating & enjoyable will help produce an obedient & manageable dog on or off the lead, starting at the puppy stage with what you want as an adult. A naturally clean dog, they respond quickly to routine and house training, (allowing for the occasional accident for the excited puppy)!
BASIC GROOMING
Welsh Springer Spaniels have a soft, silky coat which is
ONLY coloured 'Red & White'. The coat sits flat to the body & is only lightly feathered, making it easier than most coated breeds to maintain & a lot easier than the English Springers believe me! A regular brush & comb through of the feathering is required, & if they get wet and dirty, the dirt simply drops out as they dry (all over your carpet)! Bath or dry shampoo as necessary, & then use a coat conditioner as this prevents problems with knots. For the family, pet scissoring the hair of the feet level with the pads, trim hair between the toes & regularly clip the nails. Trim the feathering on the ears level with the shape of the ear, as they will reach the food bowl if left. For 'show grooming' a little bit more trimming & stripping is required & it can take a lifetime to get that last hair 'just right'!
Thanks go to 'Welsh Springer Spaniels Australia' for help with content on this page.
Welsh Springer Spaniels Australia
---
All content copyright © 2015
Contact Details
Nicola & Peter Jones
Berry Springs, NT, Australia
Email :
[email protected]